2019 Breaffy GAA Newsletter
GERRY BOURKE – CHAIRMAN
As we come to the close of another busy season for the club both on and off the field, it gives me the opportunity to thank the many volunteers who work tirelessly on a daily basis for the club. Our coaches, managers and Club Executive had a very long season and I am sure they will welcome the break over the next few months.
I wish to congratulate all our teams both senior and underage who represented the club with distinction at all age groups, their parents who made the effort to have them available for games and training all year and for supporting them at their games.
It was disappointing to see our Senior Team drop out of the Championship at Quarter final stage. As supporters we must spare a thought for the players and how they must feel after a long season with no silverware to show after all their efforts. Thanks also to the senior management for all their effort.
I wish to thank Mary Mangan and the Ladies Club for the wonderful support and energy they bring to the club.
Bord na nOg continues to go from strength to strength under the watchful eye of Enda Mulchrone as Chairman and Caroline Costello as Secretary who do wonderful work in promoting our games at club level and in our schools. I wish to congratulate Oisin Tunney on being selected on the Electric Ireland minor football team of the year 2019. This is a fantastic achievement for Oisin and for Breaffy GAA Club.
Our Health & Wellbeing Officers Siobhan Dravins and Helen Heneghan are always encouraging us to stay active and healthy. I wish to congratulate them both on receiving a national award on behalf of the club.
Colm Jordan and his committee continue to promote the game of Rounder's within our club. Well done to all involved.
Thomas Connaughton and Dermot Gannon keep the wheels of the club bar in motion voluntarily week after week. Finally I look forward to seeing you all at our Annual General Meeting.
BREAFFY SENIOR TEAM
Last October our senior came up just short in the County final. In this year's Championship they started with wins over Davitts, Kiltane and Moy Davitts but ultimately came up short against Ballina in the quarter final, after extra time. It was very a disappointing end to the season for all the players and management but we've no doubt this group of players will push on again next season. Best of luck lads, everyone in the club is behind you all.


BREAFFY JUNIOR TEAM
After a difficult 2018 season, the junior team really came out swinging this season under the stewardship of Eugene Caulfield, Terence McAlinden, Eddie Conroy and Ciaran Rice. They captured the division 6 title in a final against Moygownagh and were very unlucky in two semi final, including the Junior B Championship where they were beaten by a point by eventual champions Eastern Gaels. The junior team is vital for the development of young players and we hope to see it go from strength to strength.


BORD NA NOG
Our Bord na nÓg continues to grow year on year and we were delighted to have over 240 children take part in the Cúl Camp, which was held in early July in Breaffy. With lots of talent coming through at underage the future of Breaffy GAA Club looks very bright. One of the highlights of the year so far was the hosting of Kildimo Pallaskenry for the boys Féile competition from the 28th to the 30th of June. There were lots of games played and some friends for life made and a real bond between the boys from both clubs was established. Breaffy Bord na nOg would like to express their sincere thanks to the families who hosted the boys during their stay and everyone who helped in anyway making the weekend the success it was.
As the season draws to a close Breaffy Bord na nOg would like to take this opportunity to thank all the coaches across all levels for giving so generously of their time. The coaches have worked hard to help develop the skills of our young players and have created and an environment where they can enjoy training, take part in games, develop their football talents whilst having fun with their friends.


LADIES CLUB
Breaffy Ladies Football Club had a busy and eventful season.  Among the highlights was our inaugural Faye Lavin Memorial Blitz which was held in June. The day was an outstanding success with many of Faye's friends from Breaffy and other rival clubs coming together, playing football with and against each other in the spirit of friendship which was so important to Faye. We also participated in the Féile Peile na nÓg 2019 as a host club. We welcomed a club from Co. Clare and the weekend was a resounding success with lifelong friendships forged and fantastic memories made.  We are looking forward to next season with anticipation of even more exciting competitions and events with many thanks to our wonderful coaches without whom there would be no club.


BREAFFY PLAYERS WITH MAYO
It was a great year for our players involved with Mayo teams. Aidan, Seamie, Conor, Robbie and Matthew were all involved with the Mayo Senior team as they captured the National League title for the 1st time since 2001 and also got to the All Ireland semi final. Oisin Tunney was named at full back on the GAA Minor Star awards team of the year, as the Mayo Minors got to the All Ireland semi final. Conor Beirne represented Mayo at U20 level this season. Also, well done to Sean Deane and Marty McNicholas who were involved in the management for the winner Ted Webb team.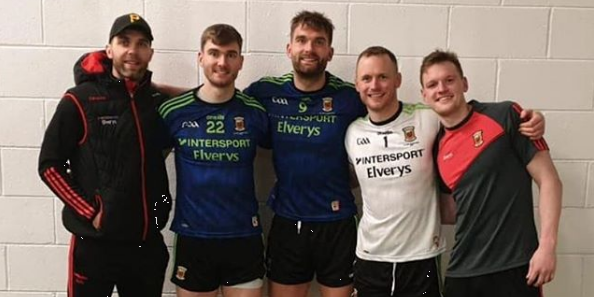 BREAFFY ROUNDERS
Breaffy has always had a strong tradition of rounders, stemming back to when Tom Higgins was principal in the local school. We are delighted that it is now going from strength to strength. The underage teams are always competitive at All Ireland level, and senior women's and mixed teams are growing all the time both competiting . Last season two of the women's players, Olivia Tolster & Katie Kenny received All Stars for their outstanding performances in 2018. Check out the Breaffy Rounders Facebook page if you would like to join.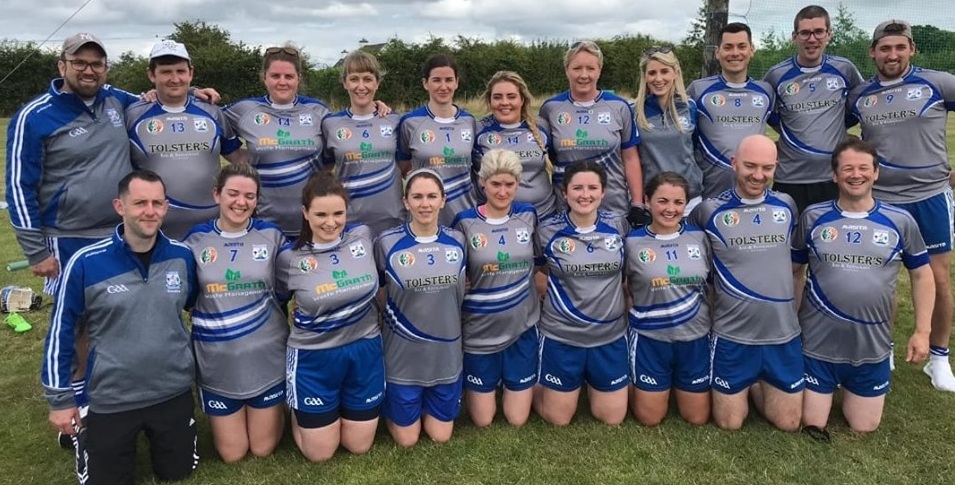 CLUB FACILITIES UPDATE
 As another club year draws to a close, we would like to take the opportunity to thank our sponsors for their support during the year. In addition, we would like to acknowledge the invaluable work done by members in driving the fundraising efforts of the club through the weekly lotto, flag day and other club fundraising events that take place on an annual basis.
Without these efforts it would be impossible for the club to invest in our facilities and field teams at every age level from our U-6 academy through to our adult teams. We now have over 250 players using the facilities in Breaffy and Ballyheane on a weekly basis at a Bórd Na nÓg level in addition to our Ladies club, Rounders, U-21, Junior and Senior players.
The money raised from various events both this year and from last year's Oskar's enabled the club to invest in maintaining the grounds in both Breaffy and Ballyheane, painting the clubhouse, adding new signage, installing new safety railings, installing CCTV and purchasing a new scoreboard along with meeting other day to day running costs. Also, thanks to CJ Sheeran for our new gear shed.


BREAFFY GAA & COMMUNITY DINNER DANCE
Breaffy GAA would like to invite you all to our Annual GAA & Community Dinner Dance. This year our Dinner Dance will take place Saturday 18 January 2020 in Breaffy House Hotel. This is a great opportunity to meet up with friends and neighbours in our community and celebrate successes both on and off the pitch. All are Welcome!
Contact Club Secretary Celia on 086 0873215 for more details.


HEALTH & WELLBEING
The 2019 GAA Healthy Club Conference took place in Croke Park on Saturday 5th October, where 84 clubs including Breaffy GAA received official recognition as a Healthy Club. Over the last 18 months Health and Wellbeing officers, Helen Heneghan and Siobhan Dravins encouraged members of our community to take part in a variety of projects such as Recipes for Success, Brexercise, School Art Competition, Breaffy Lights Up, Cardiac First Aid and Use of Defibrillator Course along with various Information evenings which were held at our clubhouse. We would like to thank you all for your support and participation.
Breaffy GAA Health and Wellbeing Winter Programme:
Monday eve – Exercise class with Sarah at 8pm in Breaffy Clubhouse
Tuesday eve – Meet at Aldi carpark at 6.30pm for a 5Km walk.
Wednesday eve – Meet at Breaffy Clubhouse at 8pm for a 3km walk
Our Healthy Club Programme is as much about talking, socialising and getting out of the house in the dark winter months as it is about walking and keeping fit . So please come along and help us keep Breaffy GAA Club and Community Healthy. Further info phone Helen – 087 9438804 Siobhan – 087 7590622.


ISSC VANCOUVER VISIT BREAFFY
On December 29th, Breaffy's senior men's and women's teams took to the field in Ballyheane to play two challenge games against ISSC Vancouver. Over 40 Vancouver players and management travelled from all corners of Ireland and from Canada for the games to pay tribute to our great mutual friend and team-mate, David Gavin. Since David's tragic accident, the ties between Breaffy and ISSC Vancouver have grown and the clubs now share a unique bond. It was a fantastic day and hope to have more events in the future. All funds raised on the day were in aid of the RNLI.


SPONSORSHIP OPPORTUNITY
The club have added safety railings in the car park at our Breaffy facility which provides an opportunity for sponsors to avail of pitch side signage. We will be looking for ten local businesses to avail of the opportunity to have their signage viewed at all games played in Breaffy. In addition your company sponsorship will be included on our website and social media platforms including Facebook where we have over four thousand followers who will see your company logo on a regular basis.
Feel free to contact Michael on 087 798 7865 to avail of this opportunity or for any additional details.


LOTTO UPDATE
 During the year we launched our online lotto to enable people to support our fundraising regardless of where they are based by playing online. Simply select your four numbers between 1-36 to be in with a chance of scooping the jackpot. You can also choose from single or multi-play options which allow you to enter your numbers into a selected number of future draws.
www.breaffygaa.ie/breaffy-gaa-lotto/
Breaffy GAA weekly lotto is a major source of income for our annual running costs and you can help support this by signing up for one of our three yearly options:
Gold Circle: For €25 per month you will have 1 x full adult membership of Breaffy GAA, 5 x entries into our weekly lotto and you will also have a yearly entry into the County Board Draw which includes a total of €97,000 in prizes (including two main prize draws of €10,000).
Silver Circle: For €16.67 per month you will have 2 x entries into our weekly lotto and you will also have a yearly entry into the County Board Draw which includes a total of €97,000 in prizes (including two main prize draws of €10,000).
Lotto Option: For €8.33 per month you will have 1 x entries into our weekly lotto.
Feel free to contact any member of the executive committee if you would like more details on how you can support.
BREAFFY GAA GEAR
If you would like to purchase Breaffy GAA gear as a gift – or as a treat to yourself, go to www.breaffygaa.ie or to our Breaffy GAA Facebook page and click on shop.
A Big Thank You To All Of Our Sponsors

https://www.breaffygaa.ie/wp-content/uploads/2020/01/2019-BREAFFY-GAA-NEWSLETTER.png
390
589
Alex Andrews
https://shared3.sportsmanager.ie/~breaffygaa22/wp-content/uploads/2022/05/logo.jpg
Alex Andrews
2020-01-08 12:57:04
2020-01-08 12:57:04
2019 Breaffy GAA Newsletter