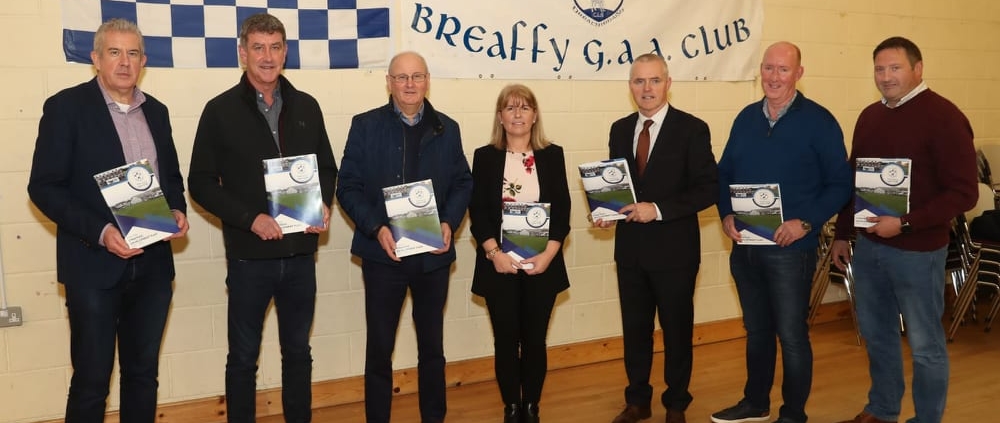 Breaffy GAA Launch 5 Year Strategic Plan
Breaffy GAA Club Chairman Gerry Bourke, The Chairman of the 5 Year Strategic Development plan Seamus Tuohy along with Breaffy Club Secretary Celia Rattigan, Club Treasurer Michael Callaghan & committee member Pat Gallagher, today, ( Sunday ) launched the Breaffy GAA Club 5 Year Strategic Development Plan 2022 – 2026.
Speaking at the launch today, Breaffy Clubman & Chairman of the 5 Year Strategic Development Plan group Seamus Tuohy said;
I am delighted to be here today to launch our exciting 5 Year Strategic Development Plan for Breaffy GAA Club. This plan is a culmination of months of research & is one of the most exciting and progressive events in the club's history.  The core purpose of the plan is to increase participation & to enhance the lives of its members, supporters and the wider community.
It will build on the club's strengths and deal with potential challenges in a positive manner.
Seamus stated; This plan is being launched against the backdrop of a global pandemic. It is important that we acknowledge the impact Covid 19 has had on clubs all over the county, however it is equally important for clubs to adapt to this situation and work to overcome the challenges it brings.
Breaffy GAA Club Chairman Gerry Bourke said:
It is with great pride that we introduce this comprehensive plan to Breaffy GAA members and the wider community.
The objectives of the plan are to provide a comprehensive roadmap of activities, football and social facilities within a safe and welcoming environment for all ages to partake and enjoy.
What is particularly impressive is that while we have been living through this pandemic the committee under the leadership of Seamus Tuohy had the determination & perseverance to complete this brilliant document.
Breaffy GAA Executive joined with Seamus in thanking the following people for their enormous contribution to the plan.
Club Structure                   Celia Rattigan & Thomas Connaughton
Coaching                           Padraic Costello
Communications/PR          Colm Gannon
Development & Facilities    Albert Dravins & Brian Ruane
Finance                             Pat Gallagher & Martin Clarke
Ita Rumley liaised with the ladies Club in all 5 areas of the plan.
Seamus added;
Breaffy GAA has been playing its own important and central role in Breaffy since its formation in 1953, creating numerous memories and placing itself at the heart of the community.
This document adds to this, it brings with it a sense of goodwill, renewed optimism as well as continuing to build on community solidarity.
I would like to take this opportunity to congratulate everyone involved in bringing this plan to actualisation.
https://www.breaffygaa.ie/wp-content/uploads/2021/11/262499166_244939344407288_6181678143073697813_n.jpg
694
1000
Alex Andrews
https://shared3.sportsmanager.ie/~breaffygaa22/wp-content/uploads/2022/05/logo.jpg
Alex Andrews
2021-11-29 16:47:43
2021-11-29 16:47:43
Breaffy GAA Launch 5 Year Strategic Plan