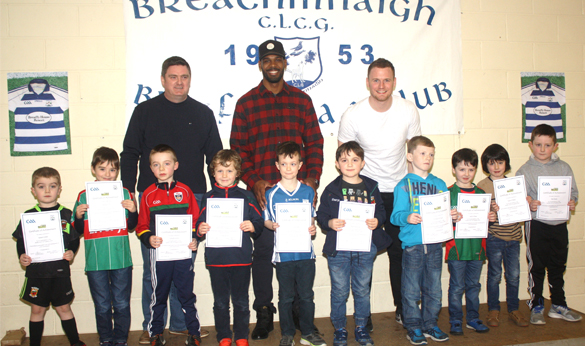 Breaffy GAA Under 6 Academy
As reported by Ray Mc Tigue
Under 6 Coach
Every Saturday morning after St. Patrick's Day until the end of September Breaffy GAA football pitch is filled with the noise of over 100 children and a dozen coaches active in the learning and teaching of the skills of Gaelic football. The Breaffy GAA U6 Academy was an idea developed to let children become involved in Gaelic games at a younger age in a fun, safe environment. In the past players would join Breaffy GAA when they were 7 or 8 years old and join as U8s. There are now over 30 players aged between 4 and 6 in the U6 group in 2016 and 7 coaches.
The academy has become an important entry point for parents and children to the club, with some parents having their first experience as being a coach. This can be a big commitment for a parent to give up their time to coach young children who have just started formal education themselves. It is a responsible, challenging position and not one to be taken lightly, but very rewarding one resulting in happy children looking forward to their next training session every Saturday morning.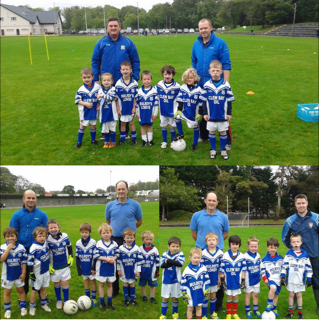 Breaffy GAA U6 teams ready for 'fun'games against Castlebar Mitchels September
The GAA Fun Do Programme was created as a vital resource for clubs designed to promote participation for all, and to present Gaelic games as a fun recreation for our youth as they learn the skills and techniques of Gaelic games in a healthy, structured and relaxed environment. It aims to cater for different levels of development, for differing abilities and needs and to develop a sense of fair play with the overall purpose of encouraging children to reach their full potential. In addition to this the Mayo GAA provide an excellent Coach Education Programme giving new coaches the skills needed to be an effective coach in their club. A new coach can earn their GAA Foundation Award, which is a requirement before becoming a coach in Breaffy and usually takes place in February every year.
U6 players are involved in numerous different training drills focussed on improving agility, balance, coordination, running and jumping. Games such as 1,2,3, red-light, bridges and rivers, dodgems, in addition to throwing and kicking drills during the 1-hour session. New skills are shown to the players, where the coach with the IDEA framework in mind. That is Identify the skill, Demonstrate the skill, the player will Execute the skill and the coach will Attend and review to help the development of the skill. The coach is aware that a younger child can get bored easily and is conscious that he/she should change the activity often. A training 'Fun Do' session is finished with a game bringing into practice what the child has learned during the session.
It is amazing to watch throughout the 6 months how the young player's skills develop and improve as they are encouraged to kick the ball against the wall for homework and play catch the ball with someone at home. In the last 2 years we have had a fun challenge game with Castlebar Mitchells who are always ready for a fun game near the end of the season in September. The party bag is every bit as important as the game itself with one recent quote "this is the best day of my life ever", I think the party bag was a big influence.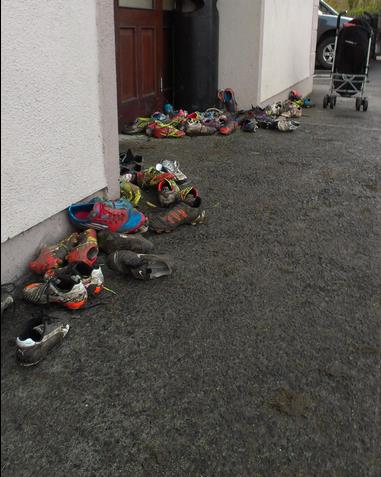 Boots outside, must be party time
https://www.breaffygaa.ie/wp-content/uploads/2016/04/academy.jpg
346
585
Alex Andrews
https://shared3.sportsmanager.ie/~breaffygaa22/wp-content/uploads/2022/05/logo.jpg
Alex Andrews
2016-04-28 18:05:45
2016-04-28 18:05:45
Breaffy GAA Under 6 Academy