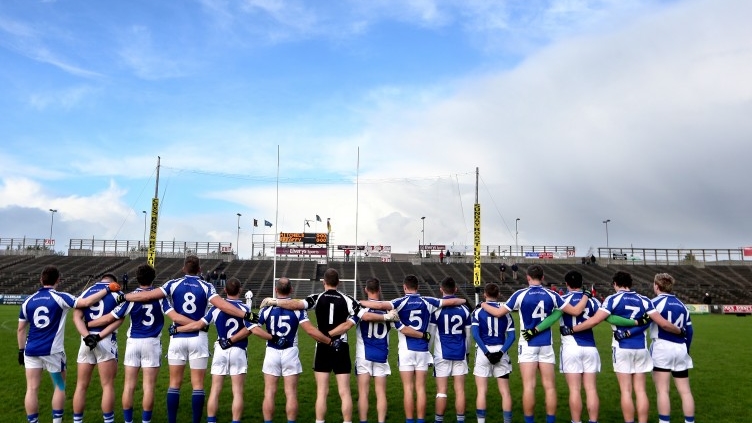 Dear Breaffy GAA Club Supporter,
As our 2016 season has begun and a lot of ground work has already taken place, we would like to welcome you and thank you for your continued support of our very busy club.
We would like to especially welcome all new members to our club and particularly if you have recently moved to the area. You have made a very good choice ☺
We have our Club Executive in place with a new Club Secretary Nuala Bourke who has at this stage well settled into her position. We also have a new Bord na nÓg Chairman, Michael Callaghan and Bord na nÓg Secretary Susan Heneghan.
We would like to thank them for taking on these positions as we know they also have busy work and family lives. We wish them well and offer our support at any stage.
A big welcome to Peter Forde and Shane Conway to Breaffy GAA Club. Peter and Shane together with Marty McNicholas form the Breaffy Senior Management for 2016. They have been working diligently with our players over the past few months with encouraging signs, having reached the final of the Michael Walsh League where we lost a tight game to deserving winners, Knockmore. We recently won our first Division 1A League game at home to Aughmore and with round 1 of the Senior Championship scheduled for mid-May the really serious competitions are certainly well underway.
Breaffy GAA Club would like to wish all our players and management every success for the remainder of 2106.
Even though our main interest is of course football – we are first and foremost a community who support each other through the good and sometimes not so good times. Sadly, a local family lost their much loved son, Ben. This was a very difficult time for all in the Breaffy area and unbearably sad and traumatic time for the Garret family.
As a community, Breaffy GAA came together and helped as best we could, this is what we do –It's part of what makes us a caring community – it's part of being a Breaffy GAA club member.
The Club wish to thank Fr. John McCormack for celebrating the mass and for his continuous assistance and support for all community activities. We would also like to acknowledge the massive help numerous people from the community and locality gave in the search for Ben. Our thanks also for all those people who helped in many ways to prepare for the Community Mass held at our clubhouse on Sunday April 17th.
Breaffy GAA would like to send our deepest sympathy to the Garret Family
May Ben's gentle soul rest in peace.
Health and Wellbeing
Breaffy GAA aims to ensure the health and wellbeing of our members and our community by providing all with access to appropriate information and by giving support in relation to all aspects of health and wellbeing. In this regard Breaffy GAA hosted an information evening in association with Croí and the HSE on Tuesday April 11th. A questionnaire was completed by the participants. This resulted in an exercise class which commenced in Breaffy Clubhouse on Monday 25th April at 9pm. Other wellbeing activities are also planned for the coming months. Further information can be obtained from Breaffy GAA's Health and Wellbeing Officer Helen Heneghan on 087 9438804
Breaffy GAA Club Gear
Club gear can be bought on line at www.breaffygaa.ie just click on 'club shop' where you can order your Breaffy GAA gear. This website also gives up to date match results, contacts numbers and other Breaffy GAA news.
Under 12 Blitz 2016
Tara GAA club, based in North West London, will travel to Breaffy with two U12 teams to take part in a Blitz on the weekend of June 4th.
All of the players from Tara GAA club are London born. The young players and their parents are very excited about the opportunity to travel to Breaffy.
St Vincent's MFC from Longford and Knockmore will also take part in this tournament. We look forward to welcoming all the players, coaches, mentors and parents to this football filled weekend.
Bord na nÓg Presentation Evening
Bord na nÓg Chairman, Michael Callaghan, introduced special guests for the evening, NFL star Roberto Wallace, Vice Chairperson Mayo County Board, Seamus Tuohy, and Breaffy and Mayo Goalkeeper, Robert Hennelly. Former Miami Dolphin's wide receiver, Roberto Wallace, was with Breaffy for a week to get a taste of how to play Gaelic Football while our own Aidán O Shea spent a week in America to experience the American NFL.
U12 Player of the year – Shane Burns
U12 Most Improved -Tom Ward
U13 PotY – Oisn Tunney
U13 MI – Brian Connolly
U14 PotY – Padraig Beirne
U14 MI – Conal Murray
U15 PotY – Ryan Corrigan
U15 MI – David Livingston
U16 Players player – Conor Beirne
U16 Players most improved player – Aaron Naughton
U16 MI – Adam Ruane
U16 PotY– Oisin Beirne (Not in Photo)
U18 MI – Brandon Tolan (Not in Photo)
U18 PotY – Stephen McDermott (Not in photo)
Our under 6 Academy were also presented with their certificates at our presentation evening by their Coach Ray McTigue and Roberto Wallace.
Our under 6 academy train every Saturday morning.
Breaffy GAA football pitch is filled with the noise and excitement of over 100 children and a dozen coaches active in the learning and teaching of the skills of Gaelic football. The under 6 academy will continue until the end of September.
Breaffy Weekly Lotto and County Board Ticket Sales
Each year, as a necessary fundraiser, our members sell Breaffy Lotto and County Board Tickets. Sellers go door to door (not a very popular task) and ask that local people, friends and family support Breaffy GAA club.
Last year many supporters took up the standing order option at €16.67 per month (€200 per year)
This gives 2 x entries in the Breaffy weekly lotto plus a Free County Board ticket which enters them into six County Board draws with prizes of up to €10,000
Each week Breaffy GAA lotto has 1 x €50 winner and 3 x €20 winner. Our lotto jackpot stands at over €15,000. Well worth winning.
Last year in the Mayo County Board draw Breaffy GAA had a €1000 winner and 2 x €250 winners.
In the next few weeks our players, executive committee and members will call to your door – not an easy job, please be kind!! Cash or cheque is also very acceptable and all sales are gratefully appreciated.
Scor na bPaistí
Breaffy Clubhouse had the usual
packed house on Saturday April 16th when the county finals of Scór na bPaistí were held. The competition which brings national school children from all parts of the county to our clubhouse was professionally compered by our own Club Secretary, Nuala Bourke. Our congratulations go to Bernard Lawrence of Breaffy School who won the solo singing competition.
History Made
March 6th 2016 was a memorable day in the history of Breaffy GAA when for the first time ever 5 club players, namely, Robbie Hennelly (Goalkeeper); Michael Hall (Left Corner Back ); Seamus O'Shea (Midfield); Aidan O'Shea (CHF) and Conor O'Shea (Left Full Forward) started for the Mayo Senior team which defeated Monaghan in Clones in the National Football League. Breaffy also have 3 players, Michael Hall, Liam Irwin and Matthew Ruane representing us on the Mayo Under 21 team who play the All-Ireland Final in Ennis on Saturday 30th April. We wish them the best of luck.
Card Game
The weekly 25 card accumulator game which takes place in Breaffy Clubhouse each Tues has come to an end for the season. The prize of the Jim Jordan Perpetual Trophy was keenly contested; Jimmy Barrett was the eventual winner. The single hands take place in the Clubhouse every Tues @ 9pm. All Welcome
Congratulations
Breaffy N.S. (large schools) and Errew N.S. (small schools) who won the Mayo finals of the FAI 5 a side soccer competition and will now participate in the Connaught finals. We wish them every success in this competition.
https://www.breaffygaa.ie/wp-content/uploads/2016/01/general-view-of-the-breaffy-team-during-the-national-anthem-752x501-1.jpg
501
752
Alex Andrews
https://shared3.sportsmanager.ie/~breaffygaa22/wp-content/uploads/2022/05/logo.jpg
Alex Andrews
2016-05-03 09:44:39
2016-05-03 09:44:39
Spring 2016 Newsletter