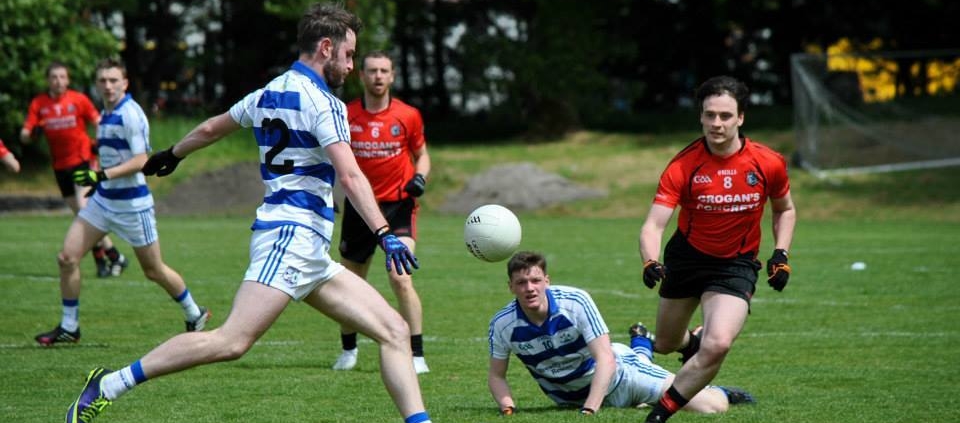 Welcome to the Winter edition of the Breaffy GAA Newsletter.
It has been another very hectic year for us all at Breaffy GAA. We are, as ever, very grateful to the many dedicated volunteers who give so freely of their time, be it training and coordinating our many teams of all age groups, looking after pitch maintenance, helping in the clubhouse at various events, running card games, involvement in the huge task of club administration, selling Breaffy lotto, helping with the Breaffy 10k, getting our community up and out walking, fund raising, keeping on top of the finances and lots more – If you helped in any way at all this year, we sincerely thank you, we could not keep this busy club going without all your help. We would also like to thank all our sponsors for their continued support. We are also indebted to our Breaffy GAA supporters who come and enjoy all the football matches played throughout the year – thank you for being there to cheer our teams along and for being united in support of the blue and white.
Nollaig Shona agus Athbhliain faoi Mhaise Daoibh.
NOTE: Breaffy Bord na nOg AGM Wednesday 4th January at 8pm in Breaffy Clubhouse
Breaffy GAA AGM – Sunday 8th January at 3pm in Breaffy Clubhouse.
All Ireland Champions
Congratulations to Breaffy GAA members Eddie Conroy, Gerry Jennings and Pat Tonra, members of the Mayo Masters team who defeated Cavan and won the All-Ireland final which was held in Ballinagh, Co Cavan recently.
A special mention also for our 3 U-21 All Ireland winners, Michael Hall, Liam Irwin and Matthew Ruane. We are extremely proud of you and all our players.
Health and Wellbeing
A Health and Wellbeing information evening will take place on Monday 30th January in Breaffy Clubhouse at 8pm. We will have a representative from Mindspace Mayo, CROI and Mayo Mental Health on the night.
Breaffy Wanderers Walking group meet every Tuesday evening at Breaffy clubhouse at 7.45pm for an energetic walk. Approx. 5km – 7 km.
On Wednesday evening, we meet at the clubhouse at 7.45 for a short walk which is approx. 3km.
You are all welcome to join us for either or both walks
Or meet us on Monday evenings for our exercise class in the clubhouse at 9pm.
For additional information contact our Health and Wellbeing officer Helen Heneghan on 087 9438804
Do you know where Breaffy GAA keeps it defibrillator??
Breaffy Clubhouse – inside front door on the right.
Ballyheane Clubhouse – behind front door on the left.
Breaffy GAA will hold a CPR and use of the AED (Automated external defibrillator) course for our coaches on a Saturday in January (date to be confirmed). If anyone is interested in putting their names down, please contact 087 7590622.
Christmas Bord na nOg Raffle
Breaffy Bord na nOg annual Christmas raffle tickets are currently being sold in the community. There are 3 Christmas Bumper Hampers to be won and a large cuddly toy that needs a good home ☺
The draw will take place at Breaffy Clubhouse on Wednesday 21st of December at 9pm. All welcome
West Board President
Congrats to Gerry Bourke on his recent appointment as West Board President. We wish him every success during his presidency.
Social Dancing
Social dancing continues in Breaffy GAA Clubhouse every Thursday evening at 8pm – All are welcome.
Breaffy girls under 12 County Champions
Congratulations to the Breaffy Ladies under 12 team and their coaches on winning the County Championship.
Breaffy Ladies Club have been very successful in all age groups this year and the club is thriving.
For any information on Breaffy Ladies please contact Mary on 086 2479305
Garda Vetting
The National Vetting bureau (Children and Vulnerable Persons) Acts 2012 – 2016 commenced on 29th April 2016. All persons who on behalf of the GAA undertake 'relevant work'with children must be Garda vetted.
The term 'relevant work' in the GAA includes any role of responsibility such as coaching, managing or training underage teams or adult teams that contain any player under 18 yrs of age – it also applies to organising underage activities or refereeing underage games.
Bord na nOg Chairman Michael Callaghan is coordinating Garda vetting for Breaffy GAA.
Note : even if you are Garda vetted for any other organisation / work you must still be Garda vetted for your role within Breaffy GAA.
Dinner Dance
Breaffy Dinner Dance takes place in Breaffy House Resort on Saturday 14th January. A complimentary drinks reception will commence at 7.30pm. Meal will be served at 8pm. Please come and enjoy this social night. Music by Stereo Mob. Contact Nuala Bourke on 087 6289344 for tickets.
Tara GAA Club London
Tara GAA club, who visited us earlier this year, had such a wonderful time at Breaffy GAA – they have asked to make a return visit next June for another under 12 blitz – so we can look forward to that.
Updates on the visit will be given nearer the time.
Registration 2017
Breaffy GAA membership registration and Bord na nOg presentation evening will take place on Friday 20th of January at the clubhouse. Registration commences at 6.30pm and presentation at 8pm
Membership – €70 per person this includes age groups u10 to u18 and all adult members
Under 6 and under 8s – €50
ALL Coaches – reduced cost of €50
Family membership – €160 includes 2 x parent/guardian memberships plus all children under 18yrs of age.
Note – Membership charge includes membership of Breaffy GAA, insurance and bus travel for under age games. Note: Membership of Breaffy Ladies is separate to membership of Breaffy GAA
Breaffy GAA Under 10
Breaffy GAA under 10s had a very enjoyable year in 2016. They started the year with indoor training over the winter months and continued Saturday mornings with a very talented, enthusiastic and happy group of footballers. They had 15 match days in all which brought them all around Mayo and they managed to retain the Fergal O'Boyle cup in Crossmolina. The annual Butler cup was a great success and the lads were delighted to be presented with their trophies by our own County Stars and idols- Aidan and Robbie.
Breaffy Lotto and County Board Draw
Congrats to the numerous Breaffy winners in this year's County Board Draws
Liam Murray – €1000
Tom Bourke – €500
Joanne Mylette – €200
Damian Ryan – €200
Esmond Walshe – €200
The Breaffy Lotto of €16,500 was also won this year by club member and supporter Maureen Collins.
Congrats to all – Breaffy lotto continues to be sold on a weekly basis and the County Board Draw will be back next year.

HAPPY CHRISTMAS EVERYONE FROM ALL AT BREAFFY GAA
https://www.breaffygaa.ie/wp-content/uploads/2016/01/11659492_1054608964567584_5399694536211126295_n.jpg
643
960
Alex Andrews
https://shared3.sportsmanager.ie/~breaffygaa22/wp-content/uploads/2022/05/logo.jpg
Alex Andrews
2017-01-04 17:40:34
2017-01-04 17:40:34
Winter 2016 Newsletter