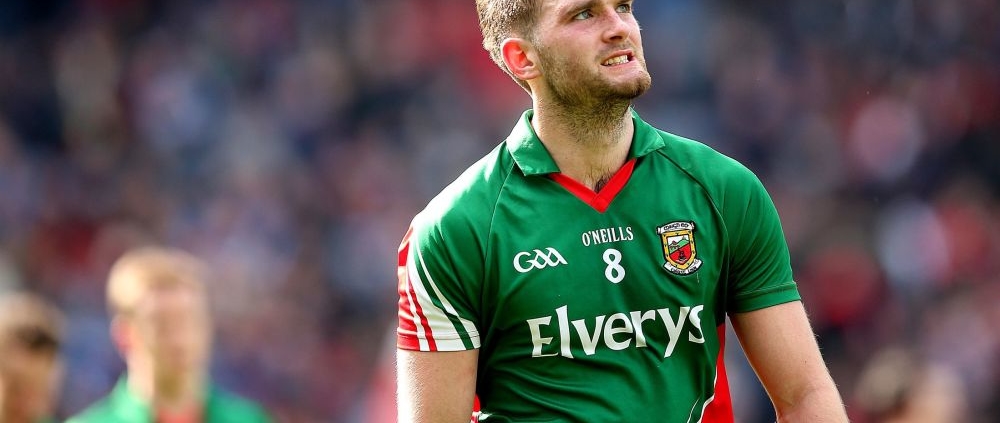 Aidan O'Shea: Mayo must make it count when ahead
Mayo's failure to land the All-Ireland in recent years is down to their inability to make their dominance really count on the scoreboard, according to star player Aidan O'Shea.
A new year brings in a clean slate for those harbouring ambitions on lifting the Sam Maguire cup come September. Mayo, despite near misses in recent seasons, will again believe that they can bring home the big prize.
It's now 64 years since the county reigned supreme, and if 2015 is to be their year, they will need to make the most of any time they go ahead, according to O'Shea. "We'll have to be more adept at maintaining a lead," he added, when he considered the main reason why Mayo have fallen just short in recent campaigns.
The Breaffy clubman was speaking at an event where details of the GAA's partnership with the ESB EnergyFit programme were revealed.
While former boss James Horan felt that the All-Ireland loss to Donegal in 2012 was the one final he'd like to play again, O'Shea singled out their subsequent final loss to Dublin in 2013 as the game where they failed to kick on from a positive start.
"We played them off the pitch for the first 25 minutes," O'Shea said.
"I spoke to some of the Dublin back-room team after that game and they were at a loss as to what to do because we were playing so well. Unfortunately we didn't make our dominance count by kicking the ball over the bar. Dublin get a line ball. Paul Flynn kicks it in and Bernard Brogan gets a goal. That changes the game. Bernard hadn't touched the ball up to that point. The second goal they got came after Seamie [O'Shea] and I were out of position and Denis Bastick came through to pick out Brogan and the ball ended up in the net. We put ourselves in a great position to win that game but we lost concentration at key moments and that cost us dear."
O'Shea also picked out elements of Mayo's 2014 campaign as further evidence in support of his case.
"Even in games we won, like the Cork [All-Ireland quarter-final], we put ourselves under pressure. In the [drawn All-Ireland semi-final against Kerry] at Croke Park, we were five or six up and let it slip. You can't be putting yourselves in these positions. We've been exploited too many times."
Mayo are an attack-conscious outfit and, according to O'Shea, "it suits or game to play that way as we have some massive runners from our half-back line and at corner back with the likes of Keith [Higgins]. We don't want to change our system completely but we'll have to be more adept at maintaining a lead."
The 2013 All Star went on to compliment Donegal for the way they can close out games.
"The problem is at the moment when we go up six or seven points in a game it is still not seen as a commanding lead for us and it can be turned around. If Donegal have that six or seven-point advantage, then the game is over. If it was Donegal in that All-Ireland final against the Dubs, I don't think they would have lost. We must drive on now and find that bit extra"
Noel Connelly and Pat Holmes have now been entrusted with steering the Mayo ship and for O'Shea he's confident the will be part of a collective that wants to find that bit more.
"We grew a lot under James [Horan] and we now want to keep the high standards that we have set ourselves under Noel and Pat," he said.
"Our level has been consistent since 2011. We must drive on now and find that bit extra. We have a new captain in Keith Higgins. In my opinion he's the best Mayo player of all time and his job will be a lot easier as he's got a lot of good guys around him."
There has been much talk of late about changes to the GAA calendar and O'Shea shares the increasing view that the season is too long.
"We could definitely shorten it," he said.
"Every professional sport has an off-season. I know we're not professional, but we don't have an off-season per se. You could definitely shorten the championship and change the structure of it in some way. I was taking recently to Liam O'Neill and he feels there is scope to move the All-Ireland final forward to August. Playing the club finals in the same calendar year would also make a difference. Players don't care about that tradition of the third Sunday in September or the club finals on St Patrick's Day. If the All-Ireland final is on the third Sunday in August, then so be it."
This interview was originally published on Wednesday, January 14th on RTE.ie. Aidan was in conversation with James McMahon.
https://www.breaffygaa.ie/wp-content/uploads/2016/01/aidanosheamayo-e1422627267461.jpg
666
1000
Alex Andrews
https://shared3.sportsmanager.ie/~breaffygaa22/wp-content/uploads/2022/05/logo.jpg
Alex Andrews
2015-01-29 15:36:24
2015-01-29 15:36:24
Aidan O'Shea: Mayo must make it count when ahead